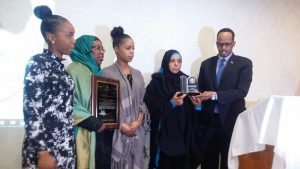 On December 25, 2016, in an event to commemorate his continuous struggle against social injustice and inequality, Dr. Omar Abdulkadir Enow was hailed by some of his colleagues and community leaders as the beacon of hope in the darkest of times for  our people and the social conscience of the Somali nation. His Excellency Hassan Sheikh Mohamud was among the distinguished guest speakers and family members who praised Dr. Enow's pioneering scholarship of Somali history and his advocacy for refugees and marginalized communities. During the ceremony, his family received the presidential award and medal for justice and equality.
After Sheikh Mukhtar Aden opened the event with a beautiful recitation of the Quran, his daughters and sister shared with the audience their memory of Dr. Enow as a wonderful father and supportive brother. They highlighted his passion for justice and education which he was an adamant advocate for many years. Marian Enow said her brother's dream was for  "every child to reach his/her potential" and he knew the only way to realize that was through education and justice. His younger brother Dr. Mohamed Eno, an excellent poet, author and scholar in his own right, thanked the audience for their kindness and encouraged them to continue his brother's legacy of fighting injustice. His tireless effort of combating social injustices was a common acknowledgement among many of the speakers.
Prof. Ali Jimale Ahmed of Queens College in New York praised Dr. Enow's solid scholarship on Somali history alluding to his  successful challenge of the prevailing theory of homogeneity in Somalia. Prof. Ali Jimale also hailed him as a kind and generous Somali  as well as an African academic. He recalled  instances where Dr. Enow  would call him from overseas to tell him that he saw a book that might interest him, and after a few days he would receive the book in the mail. He fondly remembered him as friend who was always thinking about others. To commemorate  his work, Prof. Ali suggested that naming a faculty or creating scholarships on his behalf would be an appropriate way to honour Dr. Enow's work.
The audience also heard from prof. Afyare Elmi of Doha University in Qatar. He also spoke very highly about Dr. Omar Enow's work. He prayed  for him and asked everyone to continue his legacy for the betterment of our society.
Somali president, his Excellency Hassan Sheikh Mohamud who joined the audience over the phone to honour the contributions Dr. Enow made through his hard work and scholarship. The president lauded him as one of the few scholars who took action in order to eradicate the old and unjust traditions embedded in our society. He spoke about how his brilliant work brought people together and created a common understanding among the people. The president announced that Dr. Enow will receive the presidential award and medal for  justice and equality that will be presented to his family by the delegation from the Somali embassy in Washington led by the Charge d'Affairs Mr. Thabit Mohamed.
Mr. Thabit Mohamed presented the posthumous award and the medal to Dr. Enow's daughters and sisters who received it with honour. It is the first of its kind to be awarded to anyone in the history of the nation. The Somali community in Toronto were very pleased by Mr. Thabit's very kind words about Dr. Enow's efforts to restore equality and resettlement of marginalized communities.
Former colleague and dear friend of Dr. Enow at York University in Toronto, a fellow Sudanese named Mohamed Dodi, remembered him for his efforts towards relieving the plight of African refugees. "African refugees in Toronto and surrounding areas lost a true friend  and champion" he added.
Prominent Somali community leaders in Toronto and friends who shared his vision for justice and equality, Ibrahim Elmi (Sokorow), Hassan Haji Abukar, Ahmed Mohamed Ali (Yanyurow) and others who also worked very closely with Dr. Enow during his early days in Canada expressed very well his enormous contributions to our community.  They talked passionately about his character as a confident, caring, generous and courageous man. Mr. Ahmed Ali referred to him as a beacon of hope in the difficult days of the early nineteen nineties when large numbers of refugees were coming to Toronto.
Amin Amir, the best political cartoonist and activist in the Somali community, also paid tribute to Dr. Enow's work and urged people to continue his legacy of standing up for justice.
Towards the end of the event, two well known Somali professors and close friends of Dr. Enow, Dr. Abdi M. Kusow of Iowa State U. and Dr. Mohamed Munye of Seneca College, gave their accounts on the courage and hard work of their friend. Dr. Kusow told the crowd how Dr. Enow inspired others to claim their dignity. Dr. Munye not only talked about the lessons he learned early on working with his friend Dr. Enow, but also shared with the audience details of injustices committed through linguistic, ideological and physical domination. The language domination is what brother engineer Abdulkadir Amin (Boojaaley) was talking about early on when he joined the event by phone from Ottawa, Canada.
When Mr. Abdulkadir Amin said brother Omar Enow was fighting until the last minute, he was referring to Dr. Omar Enow's last published paper that he co-authored with Dr. Mohamed Eno and Abdirrazak Dammak titled From Linguistic Imperialism to Language Domination: "Linguicism" and Ethno-Linguistic Politics in Somalia. Indeed, he continued the fight to the last minute and his work will be here with us forever.
The organizers, Hassan Adan, Yasin Abikar, Mukhtaar Adan, Mahamed Cabdi Xamiid and Xasan Xaaji thanked the audience and told the crowd that Dr. Enow was a Laashin (sage).
May Allah grant him Janatul Fardowsa and give his family the strength to cope with the enormous loss.
Abdulkadir M. Abow
abow@idirect.com